First..let's see what our customers say about our fast response.
"I had an issue where the breaker for my dryer kept tripping. I called 5 different companies and Eric from The Flash Electric only person who not only called me back, but called me within minutes. I described the problem and he told me what day and time he could come to fix it. He came on the day as promised and was on time. I am happy with the work Eric did, the price and he's a nice guy as well. So happy I found a good electrician." Catlady 71
"Eric responded to my email request immediately. I texted him photos and he figured out what I needed. He was able to squeeze me in the SAME DAY and then installed the outlet in less than 10 minutes! He wore boot covers and a mask. Great service, would definitely recommend and use again!" Zoe Myers
"Eric with The Flash Electric was very professional and responsive. I first contacted him after hours going into a holiday, and even though they were closed (as they should be on a holiday), he still wrote me back and set up a time to come to my home on a different day. The day of the visit, he informs you of his ETA and wears a mask the entire time he's in your home. He also showed me the switches that were loose and/or damaged and explained what happened to cause the lights not to work. He checked several other things for me around the house while he was here and got my home in full working order. His prices are incredibly fair in my opinion. I highly recommend him to any homeowner needing electrical work." Ariel Vanlueven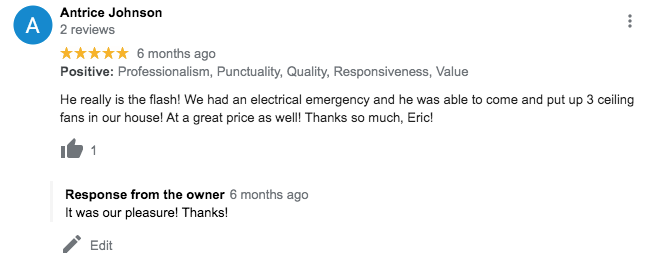 Why  else would we call ourselves The Flash Electric.  We hear time and time again how our clients are thankful to have an electrician that actually responds quickly.  Its simply how we stay so busy!
I had to screenshot this review from google.