Welcome to the topic Making Sure the Electrical Company You Hire Has Insurance.
Perhaps you've observed something unusual going on in your home recently. Perhaps one of your wall outlets is emitting sparks or appears to be on fire. Perhaps your electric water heater has failed, and you no longer have hot water. Whatever concerning domestic electrical experience you're having, it appears as though you'll need to call an electrician to investigate.
However, how can you determine which one is the greatest fit for you when hiring electricians? There are numerous electricians accessible, each offering a unique set of services and costs. You've been searching for "electrical repair near me" and are getting overwhelmed by the number of results.
Additionally, you're anxious about the electrical issue in your home and the urgency with which it must be repaired. We'll go over everything you need to consider when choosing electricians in this article.
Transparency of Licensing and Insurance
While accepting the lowest quote on your job may save you money in the short term, you must ensure that the commercial electrician you hire is licensed and insured for the services you require. A qualified electrician is required by law to carry worker's compensation and liability insurance in case of accidents or injuries on the job. Hiring someone who has only the bare minimum insurance exposes you to risk; therefore, never be reluctant to request a copy of the company's insurance certificates. This is quite frequent, and they should have access to this information. Note that bonded electricians are insured, which protects you if your electrician abandons the project and vanishes.
Determine the Length of Time They've Been in Business.
There are certain advantages to hiring an electrician with less expertise. Specifically, they will typically offer more competitive prices to attract new clients and expand their portfolios.
Contractors who have worked for years, on the other hand, may have more to give. Their specialists frequently have greater field experience and are more knowledgeable about the best options. Additionally, imagine a contractor has operated without incident for years. They'll almost certainly have established a good reputation in the neighborhood and rely on repeat business to survive in such a situation.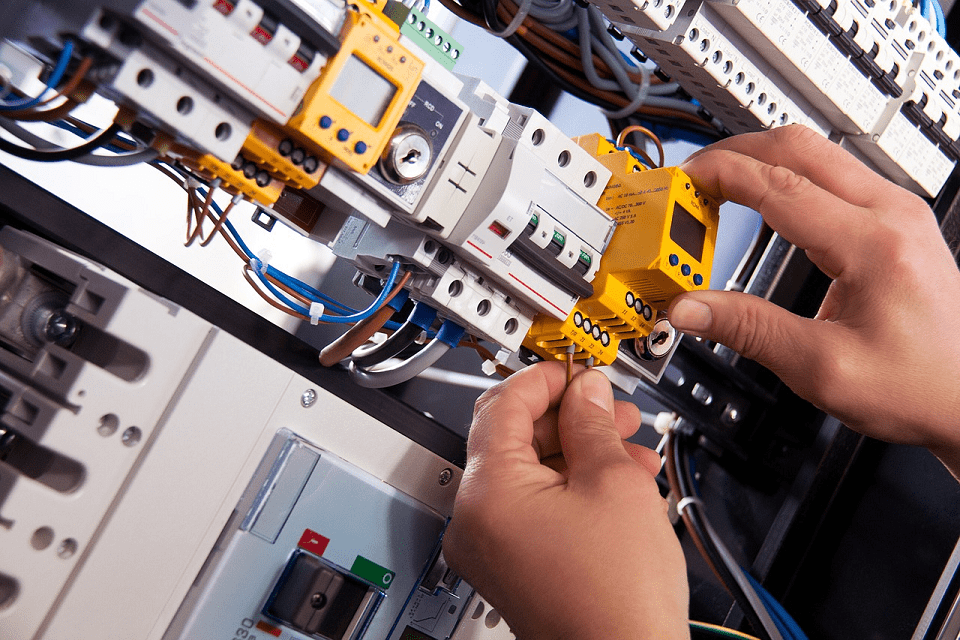 The Estimate
Comparing electrician fees is another excellent technique to choose which electrician is the best fit for you. When you need a home renovation repair, such as an air conditioner repair or a smart home installation, this will assist you in selecting the best individual for the job.
You've probably already conducted some research and compiled a list of licensed, recommended, and well-reviewed electricians. Therefore, contact each of them, describe your electrical repair, and request an estimate.
As you begin compiling your list, keep track of the average cost of repairs. If any electricians are prohibitively expensive, cross them from your list since they may be overcharging. It is best to avoid hiring electricians that provide low-cost services. This is a warning sign. The low pricing may arise as a result of substandard services.
Worse, they could be a firm out to defraud you. They may request payment for the repair or materials and then vanish with your money. If the price appears to be too good to be true, it most likely is.
Service Available 24 Hours A Day
Numerous crises occur at home and must be addressed immediately, such as a frozen pipe that must be repaired before causing a flood—or a defective electrical wiring connection that must be addressed before causing a fire that destroys your home and possessions.
As a result, you must select an electrician who provides 24-hour service. This way, if you have an emergency, they can promptly come to your home.
Just as you would employ an emergency plumber if your toilet became clogged and threatened to flood your home, you should engage an emergency electrician to prevent any disasters from occurring in your home. This is also a show of professionalism since they have their tools and personnel prepared.
Obtain References and Testimonials
As said previously, if you have any doubts about the contractor's suitability for the project, request references, and reviews. Online reviews are frequently a reliable source of information, and previous clients can provide an in-depth assessment of the company's performance in the past.
It's straightforward to conduct an online search for a business and verify its track record and certifications. With so much information available online, selecting the right contractor may come down to who has the best references.
Has This Electrician Previously Worked on Related Projects?
The last thing you want to do is provide on-the-job training for a novice electrician who may not be familiar with all of the details of the project.
For instance, are you interested in installing a series of outdoor lighting, speakers, and wiring to power more objects for your backyard celebrations? You'd want to choose a skilled electrician who has experience performing this type of work and can provide references from satisfied customers. It's essential to persevere and phone around until you find an electrician who has handled similar tasks in the past.
Employing a Licensed Electrical Contractor is the Safest Choice for Electrical work.
Leave electrical work to a Licensed Electrical Contractor who possesses the knowledge, equipment, and training necessary to complete the task safely. You may know someone who can perform the work inexpensively, but keep in mind the actual cost if something goes wrong. Hiring the wrong person might result in significant property damage or even death.
All Licensed Electrical Contractors must be adequately insured, notify the ESA, and are qualified to do the type of electrical repair you want. Acceptance Certificates may serve as references.
All of this serves to safeguard you and ensure the safety of electrical work.
Recognize the Difference
Allow only qualified electricians to undertake electrical work in your home. You may believe that familiarity with electrical tasks qualifies a handyperson for the job or that you will be alright if your general contractor recommends them. However, electrical errors can be costly and fatal. That is why even "simple" tasks such as installing pot lights require notification of work.
Have any questions regarding the topic Making Sure the Electrical Company You Hire Has Insurance? Feel Free to comment below.
Also Read: Electrical Repair in Watkinsville