Welcome to the topic "Electrical Repair in Watkinsville."
Unlike a hole in the drywall or a squeaky door hinge, a home's electrical system should not be tampered with unless a skilled electrician is present. Electrical systems are temperamental and dangerous, with the potential of electrical fires and electrocution lurking over unskilled tinkerers' heads.
This is why no property maintenance checklist is complete until a licensed electrician has reviewed it. But don't worry; they do more than verify that your wiring is up to code. Electricians may conduct a wide range of repairs and services that may not immediately spring to mind when you call for assistance.
Electrical Repair and Service Types
Licensed electricians provide a variety of services, including the following:
 Ceiling Fan Installations
Ceiling fans are multipurpose home fixtures that may brighten a room while also providing a break for your air conditioner or HVAC system. Ceiling fan installations or replacements are best done in "lived-in" spaces like living rooms and bedrooms. Still, they aren't always simple, especially if the room wasn't built initially with suitable wiring.
Ceiling fans are small-appliance powerhouses that can increase home circulation while also lowering your monthly utility bill. If you have a space that could benefit from a nice breeze now and again, consider hiring an electrician to securely and adequately install the fan.
Existing ceiling fan issues such as flickering lights, slow blade oscillation, or rattling/grinding can also be addressed by an electrician by examining the fan's wiring and installing a replacement.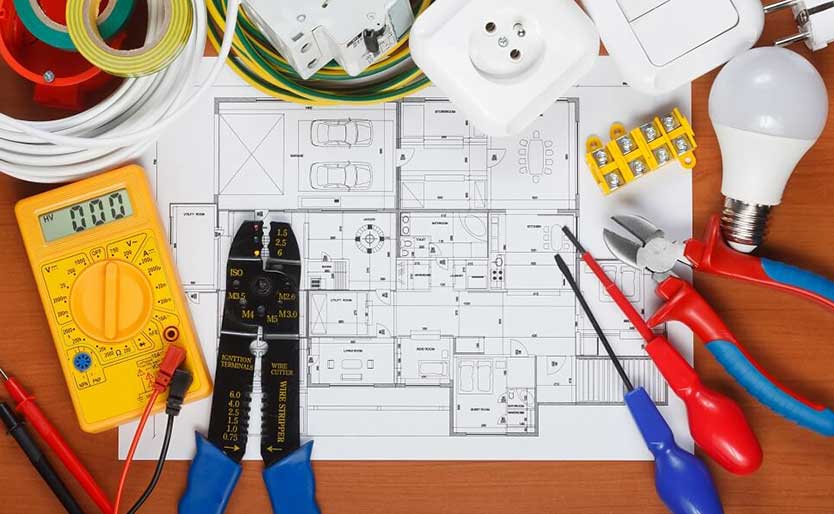 Pool and Outdoor Lighting
When it comes to curb appeal and functionality, well-lit landscaping or outside area is a significant lure. Outdoor electrical installations present their own set of issues.
Some landscapes require suspended or elevated lighting, while others require precise amperage, low-voltage transformers, underground wires, and other standards to withstand energy demands and environmental exposure.
Don't put yourself in danger; instead, choose a professional electrician who can do the task safely without losing aesthetics. A skilled electrician will arrive with the gear necessary to safely install your outdoor lights while minimizing the risk of electrical shock and steep falls.
 Appliance & Washer/Dryer Lines
Older homes may have trouble meeting the electrical and amperage demands of modern equipment. Installing huge, modern appliances such as washers, dryers, flat-screen TVs, and ovens aren't always as straightforward as unpacking and plugging them in.
Large appliances must be hooked appropriately to the property, which may need upgrading your electrical system before installation. Installing a dedicated circuit, which connects the appliance to its electrical circuit, completes the appliance wiring. This protects you, your home, and your new appliance.
This type of electrical service is available for any high-energy-consuming equipment such as refrigerators, microwaves, sump pumps, outdoor lighting, dishwashers, and others. This type of electrical work is also typical in multi-family buildings that utilize a lot of electricity in a small area.
 Repair and installation of outlets
Licensed electricians can do more than fix a faulty outlet; they can even design new ones! Plugs are in high demand in residential structures.
How many times have you checked into a hotel room only to learn that the nearest electrical outlet was across the room? Were you pleased with the outcome? Outlet placement has become a significant selling element for homeowners and renters who desire convenient access to plugs for electronic devices, lights, and other appliances.
An electrician can examine the capability of your home's electrical system to identify the safest type of outlet. The Electrical Safety Foundation International (ESFI) recommends that owners of older homes consult with their electrician to see whether their home may benefit from AFCI protection. Following an initial examination, your electrician can install a diverse choice of outlets and switches to meet all of your property's demands, including dimmers, timers, and even "smart" plugs or home automation.
 Panel Enhancements
Because home electrical systems are complex, problems may not be limited to a single socket or room. It is vital to have your property's entire electrical system inspected to ensure the installation's safety and longevity.
Multiple blown fuses, crackling sounds from the fuse box, the existence of two-pronged outlets (non-grounded), and outlets that are hot to the touch are some warning indicators of a malfunctioning electrical system – but a certified electrician can only detect other red flags.
Hiring a professional electrician to evaluate your electrical system every few years thoroughly, or as soon as you see indicators of a problem, is a good idea. Your electrical panel may need to be upgraded. A panel upgrade will modernize your electrical system to meet the demands of daily power use safely and efficiently.
Power Outages
A power outage is inconvenient at the best of times, but it could also signify a problem with your home's electrical system. Sometimes it's as simple as flipping the appropriate switch in your fuse box, but if you're unsure of the cause or would instead not take the chance, calling a professional is the best option.
Lights That Flicker
If your lights are flickering, buzzing, or not turning on and off, the wattage may be incorrect. Another possibility is that there is a faulty connection between the bulb and the switch.
Arcing of an Electrical Device
If you smell a strange fishy odor coming from a switch or wall socket, it could signal that the connection to an electrical device's circuit has been destroyed – a condition known as arcing. When this occurs, the electrical will leap to complete the circuit, perhaps resulting in a fire.
Many people would do their electrical repairs at home to save money. It is feasible to reduce project costs by omitting labor costs, but did you know that there are hazards associated with your project?
Remember that the home electrical system is a delicate component that should not be tampered with because it will lead to worse difficulties later in life. You could, for example, wind up triggering an electrical short circuit, a fire, or other similar incidents.
A professional is the finest approach to manage an electrical repair at your home or company. The job will be completed quickly, and you will be provided with a warranty for the service performed.
Have any questions regarding the topic Electrical Repair in Watkinsville? Feel Free to comment below.
Also Read: Car Charger Install in Watkinsville