Welcome to the topic "Tesla Car Charger Install in Athens."
The number of electric vehicles on the road is increasing in demand for electrical charging stations. Tesla recommends having your chargers installed and maintained by a trained Tesla technician.
Determining the Power Needs During Installation – will evaluate your electric system. It could run out of power and produce an overload, which is why we need to analyze your home's electricity.
Examine your Tesla's requirements – will decide what sort of Tesla you have and what needs to be installed.
Overnight charging your Tesla at home is the most convenient option. When you go home, plugin and let your car charge while you sleep, you no longer need to make visits to the gas station with a gas-powered vehicle, and you can save money and time by taking advantage of reduced overnight utility prices during off-peak hours.
Process
We recommend that you install your home charging equipment before you take delivery of your vehicle. Most installations are completed in a few hours but finding and arranging an electrician might take two weeks.
To effectively install home charging equipment in your home, follow these steps:
To find an installer in your area, enter your zip code in the Find an Electrician box.
After you've located local electricians, contact them personally and detail the installation work you require. Many electricians now provide rates online and by email, making it simple to compare prices.
Order your home charging equipment online once you've received a quote from an electrician.
Send your Order Shipment Confirmation email to your preferred electrician, and they will schedule your installation date directly.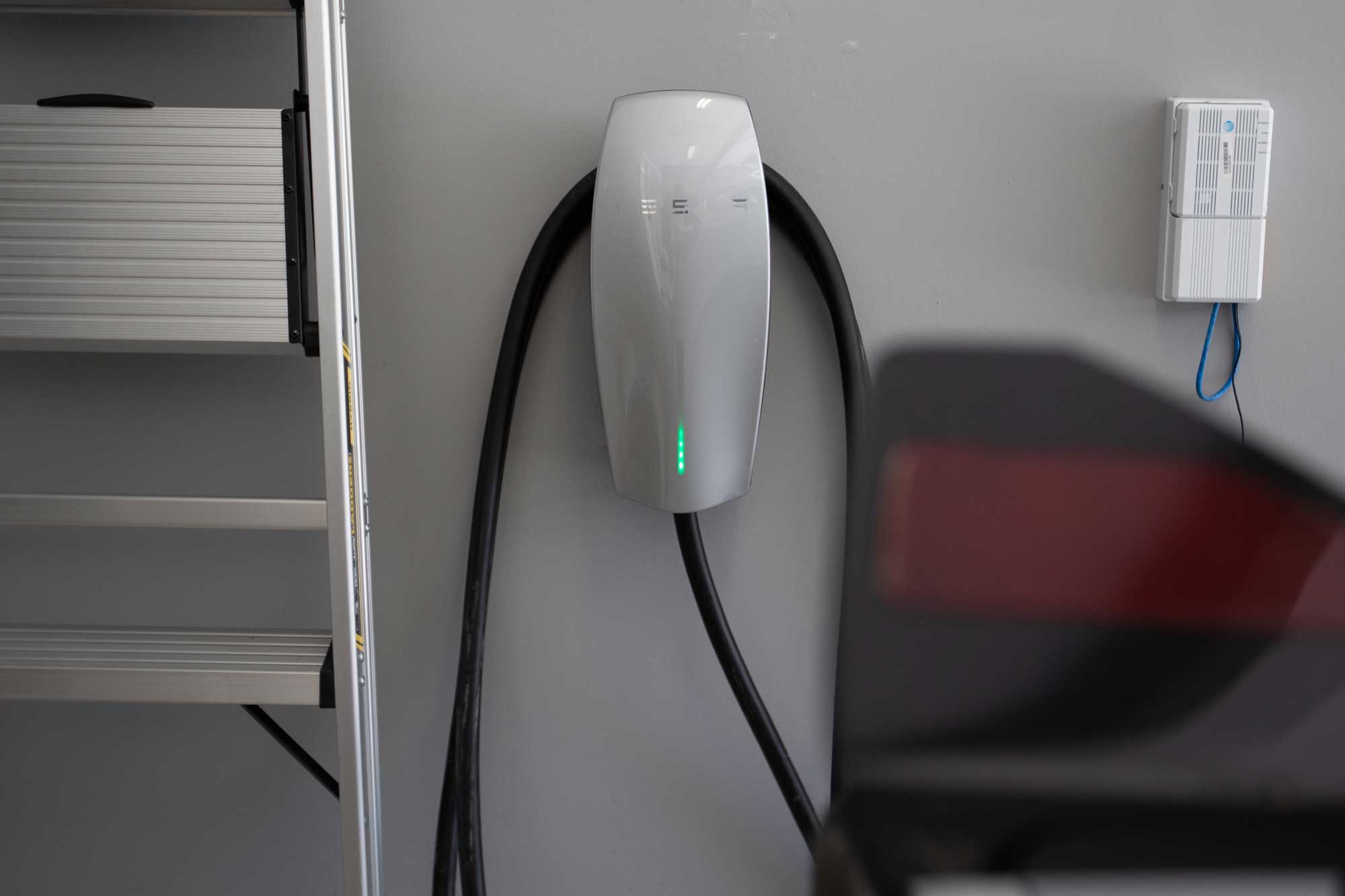 Cost
The cost of installation varies depending on your house charging hardware and electrical system.
A simple installation can cost between $500 and $1,500. If more products are required to finish your installation, the price will be modified proportionately.
Usually included:
Service and materials for professional installation
Inspection Permit Installation Warranty
In most cases, additional items are as follows:
a long run of wire (distance from the electrical panel to installation site)
a second subpanel
a trench (underground wires)
Upgrade to the main panel
Installation of a pedestal
Cable concealment behind walls
Remember to always get permission before installing home charging.
Condominiums and apartment buildings are increasingly being obliged by legislation to provide EV charging. Installing charging stations makes good commercial sense, and the case will only strengthen as more people purchase electric vehicles.
What types of home charging equipment are available?
There are two types of connectors:
Wall Connector
The Tesla Wall Connector is a quick and easy home charging solution that lets you plug in your vehicle overnight and start your day fully charged.
Features of a Wall Connector:
Up to 71 kilometers of range per hour of charging
Type 2 handle is compatible with the Model S, Model 3, Model X, and Model Y.
The maximum power output is 32 amps.
Power levels on a variety of circuit breakers can be customized.
Suitable for use with any home electrical system
Wi-Fi connectivity (2.4 GHz 802.11 b/g/n) with built-in RCD Type-A + DC 6mA protection
Indoor and outdoor installation is permitted (IP55)
Cable length: 7.3m (24ft)
Faceplate made of tempered white glass
Install a Wall Connector with a circuit breaker that matches your vehicle's onboard charger capability for the fastest home charging.
Wall Connector can also be installed with lower amperage circuit breakers to support practically any existing electrical system in unique power scenarios or where power may be constrained.
Mobile Connector
The Mobile Connector is standard equipment on all new Teslas. It's a small package that can charge your automobile at medium to low speeds from various sources. We recommend installing a Wall Connector at home and only using the Tesla Mobile Connector if a Wall Connector installation is not currently possible.
This package contains the following items:
Mobile Connector (6 meters)
Adapter for standard household outlets
Cable storage bag
Per hour of charging, the range is around 10 kilometers.
15 amp plug
The Mobile Connector is standard equipment in all new automobiles. As a backup charging alternative, insert this connection cable into regular 230V outlets.
How can I set up charging in a multi-unit residence?
Apartments and any other residence with shared common space, such as parking or electrical infrastructure, are examples of multi-unit dwellings. Your apartment's manager, strata committee, body corporate, or owner should be notified of your intended charging installation.
As a Tesla owner, you can access several easy charging choices that can fit your lifestyle and driving demands. You can charge a Tesla anyplace there is an outlet, whether you are at home or on the road.
Charging on the road
When traveling in your Tesla or away from your usual parking spot, you have three main charging options to keep your vehicle charged on the road.
Superchargers
The Tesla Supercharger is the fastest charging option when you're away from home, allowing you to charge your car up to 200 miles in 15 minutes. We own and operate 25,000 global Superchargers that are available 24/7 and positioned on important routes near convenient amenities to get you charged and back on the road as soon as possible.
Charging at the Destination
The Destination Charging network comprises well-known hotels, restaurants, vineyards, resorts, and other locations that have Wall Connectors for customer charging. There are over 4,500 Destination Charging outlets in cities and rural areas, making it simple to recharge when you arrive at your destination or have a few hours to spare.
Third-Party Charging
Look for charging stations designated J1772 or 120 volts, as these will work with the Mobile Connector bundle that came with your car when it was delivered. When not in use, we recommend placing your Mobile Connector in the trunk for easy access. Keep an adapter package in your trunk for optimum versatility on the road and charging from a 240-volt outlet.
Have any questions regarding the topic Tesla Car Charger Install in Athens? Feel Free to comment below.
Also Read: Whole House Surge Protection in Watkinsville